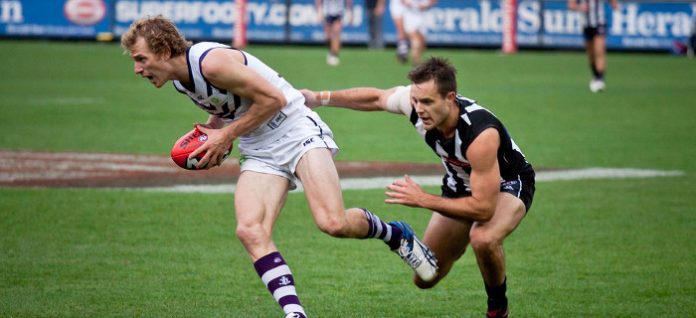 AFL 2019 is just around the corner.
AFL betting markets have been open for a while now, while the usual AFL footy tipping competitions are beginning to reappear.
As the season draws nearer punters and tipsters alike will be on the lookout for AFL betting tips, previews and predictions.
Before you get stuck into your AFL betting for this season, or put your footy tips in before the first bounce, here are five things to consider each week:
AFL 2019 brings with it plenty of new rules to get used to after concerns of the 'state of the game' last season.
Of course, this will have a massive impact on AFL betting numbers and how you go about your AFL footy tips this year.
The new AFL rules include a '6-6-6' formation at each centre bounce, where each team must have 6 players in each 'traditional' playing position – that is the backline, centre and forward line.
Players can also play-on from a kick-in without needing to kick the ball to themselves, while players receiving a 50-metre penalty can also play on quickly as of this season.
All rules point to a faster, more free-flowing style of game in AFL 2019, which could have a particular effect on AFL betting for total points early in the season.
While nobody can predict how the rules will actually impact the game until the season starts, it is certainly something to consider before doing your footy tips.
An AFL list holds around 40 players, with 22 taking the field on game day. With injuries a big part of football, often what separates the top sides from the cellar dwellers is depth.
Bookies will adjust markets when players are out injured but this can present opportunities for punters at times.
It's an obvious one but paying close attention to team selection, injury news and knowing who will be coming in can certainly help your AFL betting and footy tipping results.
If a team has depth to cover the loss of key players throughout the season, they will often represent value in the market. Likewise if a team does not have depth, betting or tipping against them could well be the best play.
The weather plays a role in AFL betting trends and can help you improve your AFL footy tipping results as well.
Like any outdoor sport, rain will favour some teams more than others, just as dry conditions will do likewise.
Some teams play a tough, inside style of play that is suited by wet conditions, while other sides play an up-tempo, hard-running and more skillful type of game that is more effective in dry conditions.
Scoring obviously becomes much harder in the rain as well, which affects AFL betting on totals.
Before you finalise your footy tips or AFL betting plays for the week, it's best to check the weather forecast.
4. Venue & Home Ground Advantage
Where a game is played is critical in AFL betting for a number of reasons.
The obvious part of this is home crowd advantage, but there is much more to it than that.
Unlike almost every other sport the AFL doesn't have a set size for it's playing field, which means different grounds suit different teams.
A team that trains on the spacious MCG every week will have an advantage against a team that is based at the smaller Marvel Stadium, for instance, despite both venues being in Melbourne.
Couple that with teams such as Hawthorn (Launceston) and North Melbourne (Hobart) establishing big advantages at their 'homes away from home' and there is plenty to think.
It's crucial to cover all bases to be successful with your AFL betting tips or in your AFL footy tipping competition.
Being a national game, travel certainly impacts AFL betting markets and is something for punters to seriously consider before putting in their footy tips each week.
The obvious one is Perth to Melbourne and vice versa, however recent moves into Darwin, Tasmania, Cairns and even China have taken travel to a new level.
Kilometres covered and the break in between games can impact a team's performance the following week, particularly if they're coming up against a team that is 'fresher'.
Every team will have tougher and easier sections of the schedule, so it's important to identify where those runs are for each club.
It's just another thing to consider when doing your AFL betting form or deciding which way to go with your footy tips for the week.
AFL 2019 is kicking off in late March, and we'll be offering expert AFL Tips membership again this season.
Win on AFL 2019 with the help of expert betting tips from pro-punters with years of AFL betting experience.
Pre-register Free to book your spot today.