A lot of punting is about learning lessons. It's a long – perhaps a lifelong – journey. Thankfully, punters who've gone before us have already learned plenty of the lessons that we need. And some were good enough to put them down on paper. If you're keen to dive into some betting books, the first thing you'll notice is that there's no shortage of them! No matter what the topic – betting or gambling in general, horse racing, sports betting, or anything else – there's plenty of titles available. So to help you get started, we've put together a list of the ten betting books that every punter should read.
We should point out that this list is in no particular order. Rather, it covers off a range of different topics and includes betting books recommended by many successful punters in their own right.
Ten betting books every punter should read
Market Wizards: Interviews with Top Traders
Fortune's Formula
The Don Scott Series
Watching Racehorses
Gambling For Life
Professional Blackjack
The Logic of Sports Betting
Weighing the Odds in Sports Betting
The Complete Book of Sports Betting
Conquering Risk
Betting Books | Market Wizards: Interviews with Top Traders
Jack Schwager
This book interviews some of the world's most successful stock market traders and explores how their calculated decision-making has made them successful. A lot of the content is very relatable to punting and/or Betfair trading. The book delivers plenty of inspirational stories, including how some traders managed to pull themselves back from the brink of failure. One of the focuses of the book is about taking a long-term view to being successful in the trading environment, and to never give up. That is most certainly something that we can all adhere to.
Betting Books | Fortune's Formula: The Untold Story of the Scientific Betting System That Beat the Casinos and Wall Street
William Poundstone
If you're any kind of serious punter you'll have heard about the Kelly Criterion: the staking system that seemingly every professional gambler uses a version or derivation of. This book is about its beginnings and how the two founders, Claude Shannon & John Kelly, developed the money management strategy in 1956.
They took the Kelly Criterion to Las Vegas, and it worked. They realised that there was even more money to be made in the stock market. The Kelly system was unbelievably successful and Shannon became a prosperous investor, even topping Warren Buffett's rate of return.
Fortune's Formula traces how the Kelly formula sparked controversy, given it made fortunes at racecourses, casinos, and trading desks. Shannon believed it was possible for a smart investor to beat the market ― and this book will convince you that he was right!
Betting Books | The Don Scott Series
Don Scott
This entry covers more than one title… all of professional punter Don Scott's books are legendary in Australian circles and this list wouldn't be complete without them!
All are out of print and a little tricky to find these days – not to mention very expensive if you can find a prized copy! However if you can, any or all of Winning (1978), The Winning Way to Successful Punting (1982), Winning More (1985) and Winning in the 90s (1990) are worth devouring.
Yes, the terminology is outdated and the form study methods may seem rudimentary to many these days. However, the approach outlined in these books was nothing short of revolutionary in its day. And the basics remain critical: the systematic approach to form study and rating horses from different classes, generating your own markets and backing runners to obtain value.
Betting Books | Watching Racehorses: A Guide to Betting on Behaviour
Geoffrey Hutson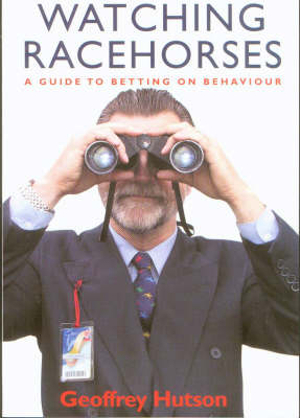 Watching Racehorses (and the sequel, Watching More Racehorses) covers the behavioural patterns of horses in the parade and how we can use their good or bad behaviour to aid our betting.
While you may not necessarily agree with the amount of weight that has been put on each behavioural pattern, it does make for interesting reading. Once you have done all form and have narrowed down the main chances, a horse that is doing everything right in the parade and looks ready to race is the last step.
Written in a slightly humorous and lighter way, these books can add another string to your bow of form study.
Betting Books | Gambling For Life
Harry Findlay
There are plenty of racing biographies that cover trainers, jockeys and horses, but this one is about a punter. Harry Findlay has earned legendary status as a rogue punter and larger-than-life character. He claims to have won over $20 million in total and spent or gambled away it all. Findlay takes you through the tales of a remarkable punting life that has seen him bet up to £2.5 million on single wagers, own champion racehorses and dogs, spend time in prison and travel the world in the lap of luxury to major sporting events.
Betting Books | Professional Blackjack
Stanford Wong
Professional Blackjack was the first book published by the mysterious Stanford Wong, and acted as a reference for those interested in the art of card counting and beating the casinos. Though, again, the edges have long disappeared, it remains a landmark title and is a must-read for anybody interested in how advantage blackjack is played.
Betting Books | The Logic of Sports Betting
Ed Miller & Matthew Davidow
This book is a fantastic guide to how sports betting actually works: how sportsbooks set their markets and what is required if you are to be a winning punter and beat them at their own game. Written in an easily-consumable style, this is a fantastic read for anybody looking to get a real understanding of how betting works… or for the mug punter who needs an appreciation of just what he's up against!
Betting Books | Weighing the Odds in Sports Betting
King Yao
This is another very useful book for those who need to get an understanding of just how betting works. If you're a novice who doesn't know the basics of betting – such as what the odds you're seeing actually mean – then this book might be a very good place to start. If nothing else, it should give the reader a good appreciation of just what is required to win at sports betting. As we know, it's not easy!
Betting Books |The Complete Book of Sports Betting: A New, No-nonsense Approach to Sports Gambling
Jack Moore
This is an old (published in the mid-90s) but very interesting and often amusing read. As well as explaining some of the basics around sports betting and how markets are formed, it introduces 'The Blindfold Method', a (now-outdated) betting approach that insists the path to winning is not via any sort of form study, but by taking advantage of incorrect or slow-to-move betting lines offered by sportsbooks. It's nothing earth-shattering now, but if you're interested in the topic, it's still fun to look back on.
Betting Books | Conquering Risk: Attacking Wall Street and Vegas
Elihu D Feustel & George S Howard
This book is concerned primarily with statistical modelling and how it can provide punters with an edge over betting markets. If you're interested in this modern type of form study then this is certainly a book you'll enjoy. Once again, while many of the actual examples provided are out of date, this one is worth a read due to the authors involved – both have very interesting stories and are more than qualified to speak on the topics at hand.
Join Alpha Racing now to get best bets from right across Australia and let an expert do all the work for you!