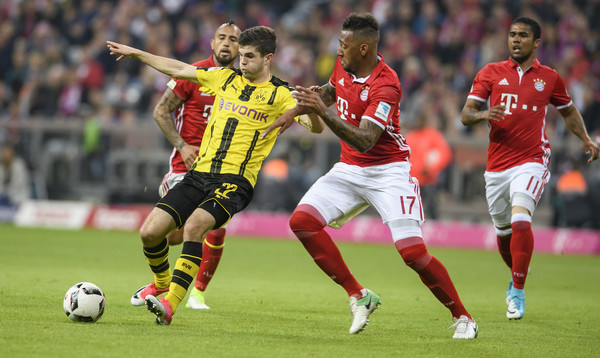 There's plenty of soccer across Europe this weekend, and we've got your punting tips sorted.
Swansea -0.25 $2.21 for 1 unit
Swansea have hit a patch of form at the right time of the season which may help them escape relegation. To do that a win over West Ham is critical. In their last 3 home games they've beaten Burnley 1-0, Arsenal 3-1, Liverpool 1-0 and I'm looking for that form to continue.
Watford -0.5 $2.15 for 2 units
I love Watford in this spot. They've been terrible at home this season but playing the right team to rectify that issue. West Brom know their fate after last weeks dismal performance. Think an easy win for Watford.
Brighton +0.5 $2.07 for 1 unit
This is surely value right? Arsenal are mediocre, have a manager they can't wait to be rid of and have no chance of making 5th let alone the top 4. Brighton firmly entrenched in the biggest relegation battle in recent memory would love a win over a former perennial top 4 team who've been pumped by City at home twice in a week.
Crystal Palace vs Manchester United
Crystal Palace +1 $2.13 for 1 unit 
Under 2.75 goals $1.98 for 1 unit
Going back to the well here and betting on Palace and the under in a dour low scoring affair.
Eibar vs Deportivo La Coruna
Eibar DNB $2.00 for 1 unit
Depor have fallen and they can't get up. They've covered 2 of their last 16. Silly of me not to have laid them mid week to Getafe which was a 3-0 loss. Eibar sit 7th and have been solid all year which is enough for me here.
Atletico +0.75 $1.961 for 1 unit
It's difficult to bet against Barca but Atletico with Blackface Griezmann are hot right now. If Atletico can nab a win they'll be within a game of Barca which seemed unfathomable earlier this season. They have a solid record vs Barca and I'm hoping for another solid display. Will be a cracker!
Betis +1.00 $2.14 for 1 unit
Betis -0.5 $6.48 for 0.5 units
I had Valencia -0.5. They are starting to warm up again but Betis has been solid away all year and typically play them well with 2 wins and 2 draws prior to the weird 6-3 game earlier this season. Take the big plus and let's go for glory and have half on the win. 
Hannover vs Eintracht Frankfurt
Hannover +0.75 $1.85
I'm not sure if I'm missing something but Frankfurt appear way too short here. I know they have beaten Hannover in 4 straight games but only by a one goal margin each time and they appear pretty evenly matched to me.
Freiburg vs Bayern Munich
Under 3 goals $1.925 for 1 unit
Freiburg are one of the most frugal home teams in the league only giving up 7 goals all year. Last season in this fixture they pinched one early and then almost held out for a 1-1 draw before Lewandowski scored in injury time for the win. 2-0 Bayern fine with me.
Monaco -1.00 $2.21 for 2 units
Praise Jebus. Praise him for this tasty miracle. Monaco are going to go to work here. Outscored Bordeaux 8-1 in their last 3 games and probably a little salty after giving up a 3-1 lead with 15 to go last week to Toulouse.
Lyon -0.25 $2.22 for 2 units
I think Montpellier are a bit of a myth. They sit 5th but have as many wins as Caen who sit 13th. They play a very defensive orientated game that can take its toll at this point of the season. They have the most draws in the comp. They've only won 5 of their 14 home games and in those win their opponents have a combined record of 39-34-62. They did hold PSG to a 0-0 result but if that happens again here we only lose a unit. Lyon won this fixture 3-1 last season and still in the thick of the Champions League places.
Bologna DNB $2.23 for 1 unit 
Not a huge fan of Spal. They kept their hopes of survival alive with a win of Crotone last week but aren't up to the level of Bologna. Bologna been great the last 2 weeks and beat Spal convincingly earlier this season.
Sampdoria +0.75 $1.917 for 2 units
Sampdoria have won 4 of the past 7 between these two clubs including a 3-1 win earlier this season. Atalanta have covered the spread in 7 of their 26 games this season whilst Sampdoria have covered 16. I feel like Teddy KGB twisting Oreo's with this one, hopefully Atalanta don't flop a monster.
Kaiserslauten vs Union Berlin
Kaiserslauten +0.25 $2.02 for 1 unit 
Simply can't trust Union away from home. They've won 3 of 12 games this season and haven't beaten Kaiserslauten away in forever.
Duisberg vs Holstein Kiel
Duisberg +0.5 $2.09 for 1 unit
Holstein have been on a downward slide since their hot start to the season. They haven't won or covered any of their past 11 matches. Duisberg have been great all year and wouldn't be shocked if they won here.
Heidenheim vs Arminia Bielefeld
Over 2.5 goals $1.97 for 1 unit
Both very open and attack minded teams. This fixture has resulted in 4 and 5 goals the past 2 years. Expecting more of the same.
The High Low continues to reach unprecedented heights in the sports betting realm, with February marking a 13th straight winning month!
With all-time profits now breaking through the $63,000 barrier in just 28 months of action, there is little wonder why the High Low is often referred to as the 'ATM'.
Join now to start sharing in the money.