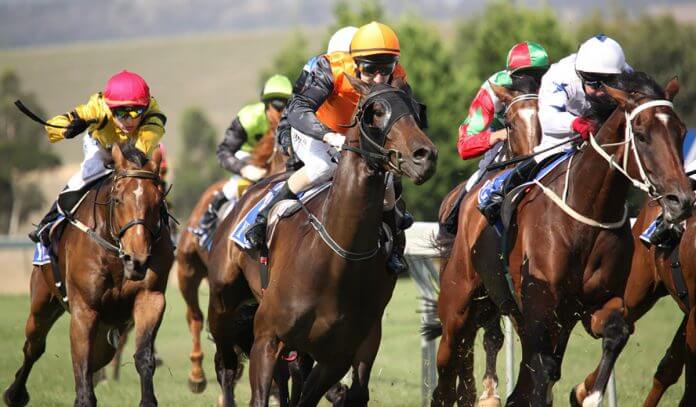 Race 1: New Year Plate (1000m)
Notes: this race was notable for the debut of Oscietra, the daughter of champion Black Caviar. She showed a heap of speed and probably overdid it as she didn't have a lot left when challenged. A solid debut third nonetheless. The race was won by Limestone who tracked the leader and was strong late, with Miss Wahoo finishing off okay for second.
Race 2: Straight Draw Handicap (2000m)
Notes: a fairly painless win for Flying Light who sat outside the leader, kicked away early in the straight and held them at bay comfortably. Master Zephyr chased gamely but had his chance as did third placed Kourkam who was very one paced after having a perfect trail on the winner's back.
Race 3: Byron Moore Handicap (1600m)
Crocodile Rock (2nd): found himself in a tricky spot and with 61kg had to wait until a run opened instead of forcing out. Closed off his race nicely and probably the short trip was against him. Smart 2000m-plus galloper and he'll atone.
Wheal Leisure (5th): coming off a country maiden win, this filly ran a blinder from near last and was attacking the line hard. Took on some very seasoned gallopers here at just her second start. Looks to have a future.
Notes: Gervais enjoyed a nice run just behind the speed and when a run opened was able to sprint clear and hold off the runner-up. The lightly raced Stone Warrior followed the winner in the run and battled on okay for the minor money.
Race 4: Nouvelle Star Handicap (1000m)
Notes: a hectic tempo up front saw the placegetters come from off the speed and on the outside of the straight. Little Indian ran right up to her first-up effort to break through for an overdue win. Annrhon arrived in time to cut Conspicuous Maid out of second. Magna Rossa was a big disappointment after having a nice trail.
Race 5: Red Tempo Handicap (1400m)
Red Alto (4th): has a habit of being slowly out and he was held up at a vital stage and as a result took a while to get going. When he did he motored home to just miss a place. Capable of winning in town.
Notes: Snitzson was quietly ridden this time and worked through the pack to atone for a luckless defeat over the same course.  Portman was game up on the pace all the way with Viceroy enjoying a soft run and fighting on for third.
Race 6: Standish Handicap (1200m)
Notes: a form reversal from Odyssey Moon who ran last when resuming, he was always on the speed and established a break before holding off Cavaloce and Inspector who had their chance to catch him. All runners were on 58kg due to an archaic rule that raises weights when a highly weighted horse doesn't accept. Hopefully this will be changed soon to avoid another farce like this so-called handicap.
Race 7: Bagot Handicap (2800m)
Notes: fast run race with a tearaway leader and it panned out perfectly for Annus Mirabilis who didn't go around a horse to hit the front about 350m out and he held a clear margin over Anemoi and Thunder Teddington who made ground but were no match. Lord Van Percy was a big flop even allowing for the 60kg.
Race 8: Summer Racing Handicap (1600m)
La Speciale (5th): negatively ridden and she wasn't a winning chance after 50m as she crossed the back of the field and found the fence six horses back. You don't win from there. Didn't have a lot of luck trying to get through the field and it was painful to watch. She's ready to win though.
Notes: the winner Domino Vitale rode the speed, unlike last time when she was out the back and never a factor, and she was far too good. She's Got Speed and Morning Sunshine filled the placings but were no match.