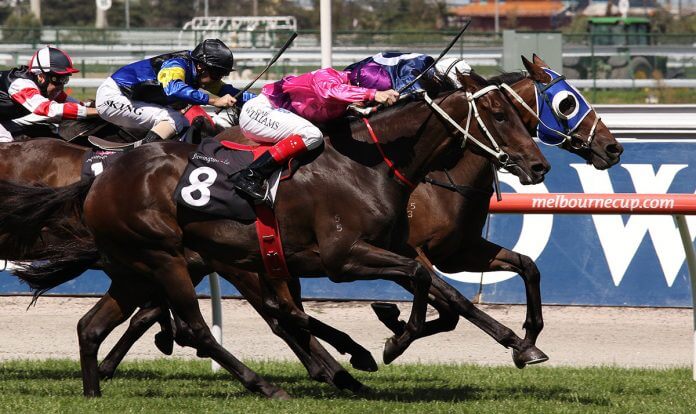 Race 1: Maribyrnong Trial Stakes (1000m)
1st Madeenaty – Mark Zahra
2nd Double Jeopardy – Damian Lane
3rd American Genius – Regan Bayliss
The main speed came from the inside with American Genius and Madeenaty showing good pace. Explicitly and Purrhapswere handy to them and Double Jeopardy settled behind the leaders. Wider out Redcore and Inquiry were a bit green trying to stay with them. Madeenaty travelled very strongly and had a good kick at the 400m when the pressure went on. Double Jeopardy tried to match her on the inside but couldn't and American Genius was sticking on. Those wider out were giving ground. Madeenaty sprinted well clear in the last furlong and looked pretty smart in winning easily. Solid debuts from Double Jeopardy and American Genius but they were no match. Inquiry battled on to be best of those further out while Purrhaps picked up a bit of late ground after being under pressure a long way out.
Follow: couldn't go past Madeenaty.
Race 2: Poseidon Stakes (1400m)
1st Inside Agent – Michael Walker
2nd Magnarock – Hugh Bowman
3rd Peacock – James McDonald
Northern Lion exploded out and led easily from Zunbaqa sliding forward ahead of Styleman and Trenchant. Peacock was caught wide so pressed on past Simply Invincible. A couple to Magnarock and Ribbon Of Choice. Northern Lion loped along in front of Zunbaqa in the middle stages while Peacock kept moving forward wider out. Styleman enjoyed a nice run though kept in a pocket by Simply Invincible. Widest on the bend was Inside Agent who had travelled at the tail throughout. Northern Lion was collared by the 300m as Zunbaqa and Peacock took over. Styleman went for a run inside them and Trenchant was battling away in restricted room. Further out Magnarock threaded his way through and was chiming in with Simply Invincible and Inside Agent closing. Magnarock got to Peacock but was claimed in the last 50m by Inside Agent who did a big job to pick them up.  Peacock held on gamely for third in a group just ahead of Outback Rain and Simply Invincible with Ribbon Of Choice also close up. The leaders knocked right up in the windy conditions.
Follow: have to stick with Inside Agent, Outback Rain has put two good runs together and might pick up an easier race.
Race 3: UCI Stakes (1800m)
1st Wine Bush – Hugh Bowman
2nd Rocketeer – Dwayne Dunn
3rd Highlad – Damien Oliver
Throssell bounced quickly but was looking for cover. Lord Macau rushed forward to take it up from Highlad taking his time to work forward. Captain Rhett and Captain Duffy let them go. Wine Bush settled in the clear next from Larrikin improving past Throssell and Wimborne three out and Missile Boom between them. Lord Macau ran them along a bit but he was in trouble coming to the turn. Highlad moved quickly alongside and they were lining up out wider with Captain Rhett, Wimborne, Larrikin and Beach Life right off the track looming. Odeon was tracking up and as they bunched Throssell was one of the first beaten. Wine Bush was weaving into the clear as well while Rocketeer pinched ground on the fence and improved quickly up behind the leaders inside the 400m. Highlad was left in front a long way out with Captain Rhett. Rocketeer got a split between them to burst to the lead coming to the 200m with Wine Bush and Wimborne trying hard. Odeon was still coming wider out. Rocketeer was there to win it but Wine Bush wouldn't go away and just worried him out of it on the line. Highlad was a brave third and Odeon also a strong effort. Of the others Kent ran on when the race was all over. Throssell was a big disappointment though pulled up with atrial fibrillation.
Follow: Highlad's effort was huge, off a month's break and facing the breeze.
Race 4: Gilagi Stakes (1200m)
1st The Quarterback – Matthew Allen
2nd We've Got This – Damien Oliver
3rd Durendal – Damian Lane
We've Got This was a bit slow out and settled back as usual. Faatinah held the lead from Stratum Star right on the speed. Saint Valorem was also quite handy and Durendal seemed to be pushed along a fair way out next. The Quarterback followed the leader and Generalife was on the back of that bunch. Widest on the track was Under The Louvre. Faatinah was the first horse under pressure and they'd picked him up easily at the 300m. The Quarterback took that inside run and dashed to the lead with We've Got This trying to follow. Further out Saint Valorem was battling while Durendal and Generalife started to get going. Under The Louvre was giving them far too much start. The Quarterback sprinted quickly and put the race beyond doubt, holding We've Got This comfortably though the runner-up tried hard. Durendal just got the better of Generalife for the minor placing. Under The Louvre managed to get past Faatinah,  who wasn't the same horse as he was first-up, but his effort was well below par.
Follow: none in particular.
Race 5: The Bart Cummings (2500m)
1st Almandin – Damien Oliver
2nd Zanteca – Craig Williams
3rd Excess Knowledge – Mark Zahra
Pentathlon and Dandy Gent broke well but Shimrano was set alight and ran to a clear lead, stringing them out. Lucques settled fourth ahead of Almoonqith and Excess Knowledge. Almandin was about midfield inside Vengeur Masque. Shimrano opened up a big lead once again about four ahead of Pentathlon and Dandy Gent. Probably almost 20 lengths first to last midrace. Shimrano was challenged nearing the 800m and gave in very quickly as Dandy Gent rushed up outside him and Pentathlon slipped along the fence. Lucques was being pushed along as some runs started to come, Almoonqith along the fence and Excess Knowledge and Vengeur Masque wider out. Almandin was also creeping up on the rails. Dandy Gent went for home at the 400m from Pentathlon, Almoonqith had moved to third and Almandin continued to improve on the inside. Lucques was battling while Excess Knowledge started to run on well. Almandin got the runs through and hit the lead inside the last furlong, kicking away for a soft enough win. Zanteca was an eye-catcher getting up for second after being held up for quite a while down the straight and Excess Knowledge ran a much improved race. Vengeur Masque wasn't a bad run from Dandy Gent. Big disappointments were Almoonqith and Aloft, who was never in the race and didn't fire a shot. Almandin is now in the Melbourne Cup but he might be in the B division.
Follow: Zanteca might pick up a race over the carnival.
Race 6: Edward Manifold Stakes (1600m)
1st Serenely Discreet – Luke Nolen
2nd Bella Sorellastra – Stephen Baster
3rd Waterloo Sunset – Regan Bayliss
Gogo Grace showed good speed to lead them with Von Richter coming across. Bettyrae Ruby whipped up early too to be on the speed from Classic Diva and Eleonora. Vainglorious was on her outside and Peeking Duck three out improving. Another group behind them included Chipanda wide with cover around Another Bullseye, Whyouask and Exocet. Gogo Grace had control coming to the turn in a packing field. Bettyrae Ruby and Peeking Duck started to creep forward with Vainglorious and Chipanda making a line of five. Exocet ran up behind the latter. Back behind the leader was Von Richter with Classic Diva and Eleonora looking for runs. Right down the outside from well back came Serenely Discreet with a big run while Exocet was being held up. Serenely Discreet picked them up quickly to race to the lead about 200m out. Another Bullseye got up on the inside from the weakening Chipanda, running on we're Fromparis Withlove and Bella Sorellastra, Waterloo Sunset was in the mix too while Exocet wasn't really doing much after being checked. Serenely Discreet made up for an unlucky last start with a dominant win here. Bella Sorellastra and Waterloo Sunset were handy efforts ahead of Another Bullseye. Exocet was still a bit disappointing despite not having all the luck.
Follow: none.
Race 7: Group 1 Turnbull Stakes (2000m)
1st Hartnell – James McDonald
2nd Jameka – Nick Hall
3rd Tally – Brenton Avdulla
Nobody super keen to lead in the early part and eventually Second Bullet elected to push to the front from Sofia Rosa. Hartnellheld the fence and Tally was sent forward around him. Tarzino broke well and was handy this time and Jameka let them go to take a trail. Preferment settled on the fence midfield. Raw Impulse and Our Ivanhowe were the next pair. Second Bullet was kept busy by Tally while Tarzino and Sofia Rosa did the tracking. Hartnell had the drop on them on his own and Jameka had his back. Tally took over on the turn as Second Bullet gave in quickly. Tarzino came out three wide trying to push Hartnell wider and Jameka was still following him though under some pressure. It didn't take long for Hartnell to assert some authority and he strolled away under hands and heels riding with Jameka doing the chasing. Tally was sticking on and Preferment and Tarzino battled on. Happy Trails made some late ground but it was a one horse race. Hartnell outclassed them while Jameka did her Caulfield Cup chances no harm. A few horses we can cross out as spring carnival prospects are Tarzino, Sofia Rosa and Our Ivanhowe. Preferment was fair.
Follow: Obviously Hartnell, love to see him go to the Cox Plate but he'll be hard to beat in a Caulfield Cup.
Race 8: Blazer Stakes (1400m)
1st French Emotion – Ben Melham
2nd Pure Pride – Patrick Moloney
3rd Vibrant Rouge – Luke Nolen
Antelucan fired out and was able to cross as Rockolicious recovered from a slowish start. Majestic Lass moved forward to sit outside the leader and Manageress found a good spot on her back. Catch A Fire was wide out around Metaphorical andTelopea about midfield on the fence. Coronation Shallan was in the three wide line being tracked by French Emotion. Another bunched field nearing the turn though Antelucan was able to kick a bit and she and Majestic Lass shook off those looming wide out. Rockolicious was right there and Telopea ran up behind the leaders at the 300m. A couple to Manageress a bit flat footed with Catch A Fire. French Emotion started to unleash a sprint not seen in recent starts down the outside. Telopea went back to the fence to make her run but no sooner did she get through did French Emotion swoop by. The placegetters Pure Pride andVibrant Rouge were well back in the field to the 200m before getting going very late with Pure Pride getting within a half length. Telopea had no answer and Rockolicious battled on okay.
Follow: none in particular.
Race 9: Paris Lane Handicap (1400m)
1st Ulmann – Damian Lane
2nd Akavoroun – Mark Zahra
3rd Federal – James McDonald
Tudor was one of the best out but headed by Gracious Prospect. Santa Ana Lane was up handy from Le Bonsir and Dan Zephyr using his inside alley. Ulmann found a good spot inside Akavoroun caught wide and Lidari was back on the fence. In that group were Yesterday's Songs, The Virginian and Hopfgarten with Federal behind them. The Virginian pressed forward out wide to be up with the leaders coming to the turn. Gracious Prospect and Santa Ana Lane turned in front from Le Bonsir and The Virginian. Tudor was waiting on the fence and Ulmann was also there. Further out Akavoroun came off The Virginian's back to run on and Hopfgarten tried to go with him. Federal had a bit of restricted room for a while before getting into the clear. Akavoroun sprinted up in the middle of the track at the 300m to join Gracious Prospect. Santa Ana Lane and Tudor couldn't go on, neither could The Virginian while Dan Zephyr was held up behind them. Ulmann worked into space after a bit of a bumping duel while Hofpgarten and Federal were running on too. Ulmann balanced up and darted up on the inside of Akavoroun in time to score narrowly with Federal closing in on them late. Hopfgarten ran a nice first-up race and Dan Zephyr might have been a bit unlucky next. The Virginian didn't run such a bad race considering the torrid run.
Follow: Hopfgarten and Dan Zephyr have wins in them.
Specials from the meeting: Highlad, Outback Rain, Dan Zephyr, Zanteca.