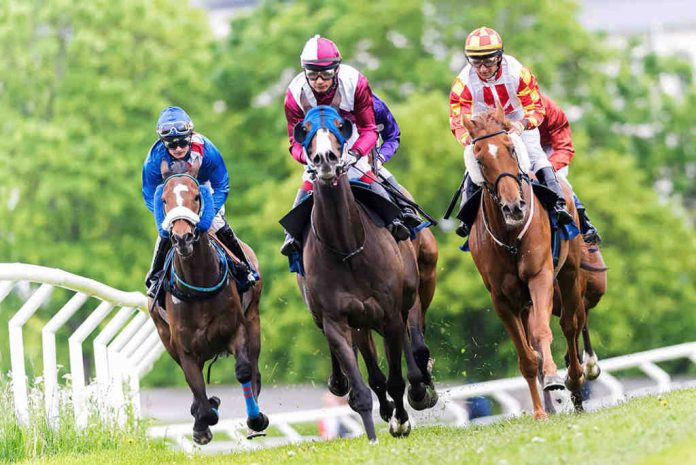 Race 1 – Darby Munro Stakes  (1200m)
Note – I Am Excited made it three in a row with a nice ride from Blake Shinn sitting midfield on the fence and not having to go around a running to score over Isaurian who was outside the winner in the run however came wider around the bend which was the difference in the end. Za Zi Ba was a good effort at big odds holding onto third after having a nice run and was a good effort for something easier. I would be forgiving to the runs of Manicure & Acqume both trapped wide throughout. Going forward the winner continues to race well, however I would be sticking with Isaurian change the runs with the winner and he wins this. He will be peaking in fitness in the next start and hard to beat in similar class.
Race 2 – Epona Stakes (1900m)
Note – The Pinnacle broke through after three good runs this preparation. After having a good run just behind the speed she peeled out to the middle of the straight and proved too strong for Domed  who was a shade further back and was solid to the line however every chance for mine to reel in the winner. The race favourite Nettoyer made along sustained three wide run and looked to be right in the finish however peaked on his run in the final 100m to run third. Of the beaten brigade I thought the run of Ceylon was solid for something a bit easier next start working to the line in good fashion and Consommateur was a shade disappointing after having a nice run and looked to have every chance and we lost Harlow Gold due to dropping the rider at the start and was declared a non runner. Going forward I think Domed can be winning again in a weaker event next start was stepping up in grade and was a solid performance today.
Race 3 – Manion Cup (2400m)
Note – A solid early pace in this event set it up for the backmarkers to run on and it was Master Of Arts saluting after sitting in a lovely position one off the fence and midfield. He sprinted well and held off the challenge of Alward who was towards the tail and run on well to run into second. Peribsen was a very good on pace effort to hold onto third after sitting outside the leader and fighting on well and the same can be said for Singing who boxed on well after being forward in the run to just miss the money. Patrick Erin got going late to hit the line in sound enough fashion however never looked a winning chance. Not a race I am overly excited about from a form perspective they are a very even bunch of stayers.
Race 4 – Ranvet Stakes (2000m)
Note – The short priced favourite Gailo Chop was to good winner sitting outside the leader and kicking strongly in the straight to win by 3 lengths. Single Gaze was her typical honest self, fighting on well in the straight to hold second however never a real threat to the winner. Prized Icon in third drift to slightly worse than midfield and was solid to the line however again no real threat to the winner. Ventura Storm sat last in thr un and offered very little in the straight. Going forward it's all about the winner Gailo Chop who was a class above these.
Race 5 – George Ryder Stakes (1500m)
Note  – Winx did it again however this effort wasn't her usual demolition job. Sitting towards the tail she commenced her a three wide run and let down well however Happy Clapper who came second pushed her the whole way up the straight to a 0.8L margin on the line. Kementari was solid to the line running third however every chance to get past Happy Clapper. Those three put a good gap back to fourth who was Crack Me up. Going forward it's all about Happer Clapper & Kementari who will both be hard to beat based on that performance in anything they run in next start. Both very good efforts behind the champion Winx
Race 6 – Rosehill Guineas (2000m)
Note – Impressive victory to the well backed D'Argento sitting midfield and three wide the trip he sprinted to well in the straight to put them away stylishly. Very good effort. Vin De Dance crossed the line second in what was a good effort from the NZ derby winner however was relegated back to fourth after interference with Furore in the straight who would of ran second. This promoted  Tangled from third to second and at the huge price after a rail hugging ride running on well. Furore was unlucky to not finish closer and was awarded third in the stewards room. It was a good effort. Ace High was a good effort on pace sitting wide and holding on well. Looks ready for the Derby now and the two kiwi's Mongolianconqueror & Mission Hill both ran on well late and are looking for the extra trip. Villermont worked a touch early and knocked up in the straight late. Not sure the 2000m suits him. Going forward the winner was excellent and very hard to beat in the Derby. Ace High looks ready to peak aswell and keep a close eye on those NZ's they all ran well and will be around the mark in Derby yet again.
Race 7 – Golden Slipper (1200m)
Note – Estijaab  who was well specked flew the gates from the wide draw and crossed to lead and kicked on strongly in the straight to fight off the challengers to win the big one. Oohood ran on well from midfield to run second and probably wins if the race went another 100m. Big effort and probably the best maiden in Australia. Sunlight was third and sat behind the speed however just couldn't reel in the winner. Solid performance however was every chance and the exact same can be said for Written By solid however every chance after having a nice run in transit. Of the beaten bridge the run of Seabrook was good trapped very wide and a touch worse than midfield she was very good to the line. I also liked Long Leaf who was last on turning and made up many lengths in the straight and good for something easier. Going forward surely Oohood will break through soon! A win is oh so very close.
Race 8 – Galaxy (1100m).
Note –  In Her Time first up won in good fashion sitting off a hot early tempo and sprinting to well in the straight to score. She is very talented.  English bounced back today after being slowly away and towards the tail made up very good ground in the straight to run second. Viridine was well tried in betting and ducked back to the fence in the straight and ran on soundly without ever looking a winning chance. Two horses outside of the placegetters worth following is Snitty Kitty who sat on a very good early pace and held on well in the straight. Very good performance. The other is The Mission at any old price who ran on very well from the tail and is worth following in something easier next start.
Race 9 – Birthday Card Stakes (1200m)
Note – Quilista won the lucky last after a dashing front running ride from Tommy Berry. Leading at a good tempo she kicked strongly again the straight giving nothing else a chance. The favourite Sugar Bella was again good running second however just found the winner to good. These two put in a good gap back to third who was Hetty Heights who got well back in the run and made up good ground in the straight to run into the money. One at big odds I thought ran well was Star Reflection who at a huge price sat very wide and battled on well just to miss the money. Going forward have to stick with the first two across the line and follow Star Reflection in something a touch easier next start