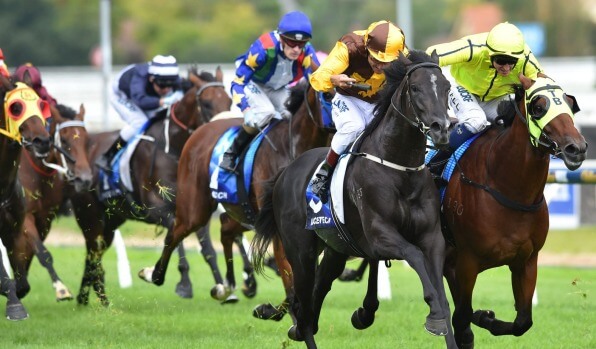 Spring is definitely in the air
Is it because Spring had officially sprung? Is it because it's the first Group 1 of the Spring and you know just how much quality racing is to come?
I'm not exactly sure, but this year's Memsie Stakes day certainly did enough to whet my appetite for the next couple of months, and the biggest star of the day was racing 1000km away from Caulfield.
I talk of course of the mighty mare Winx. She's back, and she's winning. She's given those that are taking the tomato sauce some heart flutters, but the reality is she is s superior racehorse and she'll be the first since Kingston Town to win three Cox Plates. More on that later, but back to last Saturday's big Group 1 now.
Memsie Stakes
Ultimately this race was a Craig Williams masterclass on a genuine Group 1 galloper. Vega Magic put the writing on the wall with his previous win, and on Saturday Williams rode a controlled race, working to the front after 200m and then going steady fractions before winding up the pace and really putting them to the sword with a 10.62 split between the 400m and the 200m. This won't be the horse's last Group 1 victory.
Due to the way this race was run, it is difficult to get a gauge on the other runners, particularly those back in the field. You just about have to give them all a pass mark and 'see again'. The one that did impress of the beaten brigade was Tosen Stardom who appears to have a good win in him this campaign.
The real objective of this article is to look further ahead to the big races to come this Spring. The Caulfield Guineas, Caulfield Cup, Cox Plate and of course the Melbourne Cup.
Caulfield Guineas
Let's kick off with the 3yo's in the Guineas, and for me this is the bet of the Spring. Royal Symphony is an exciting racehorse. Plenty will say it is Winter form and won't stack up, but they just don't do what he's done. Every time he goes around he wins by margins and with ease. He overcomes difficulties and runs time. He's in a smart stable who clearly have a big opinion of him and he's been ridden by a smart jockey who also has a big opinion of him. Although the stable has been somewhat bullish, I get a sense they are holding back from saying what I think, which is, he could be the next big thing…I'd suggest he will win the Guineas and then tackle the Cox Plate, and an early ticket there at around $41 wouldn't be a bad move. The reality is, anything could happen with Winx between now and then, although as a genuine racing fan I certainly hope it doesn't.
Caulfield Cup
The Caulfield Cup this year has the name of Hartnell written all over it. Last year they pursued the Cox Plate and we all saw what happened there. He came back in fine fashion to win first up this campaign, they'll learn from last year, they'll avoid the mare and win The Caulfield Cup this year. Looking at the early all-in market there, those that also draw interest at odds are Bonneval who can transition to this company and Life Less Ordinary who has the Waller polish.
Cox Plate
The reality is, if she stands up she wins. The only 'but' you can possibly come up with for Winx is the fact that there has to be a reason that only Kingston Town has achieved three in a row. The reason is, it's near impossible to do. We've seen Winx achieve the near impossible on more than one occasion so far this campaign however. A sobering thought though in recent times is that the mighty Sunline and The Fighting Tiger, Northerly couldn't grab three in a row after successive wins. If there's a chink in the armour, Royal Symphony might have the right ammunition.
Melbourne Cup
To the big one, the Melbourne Cup. I'll be honest, your tip is as good as mine this far out. I have to confess to not being an expert on the overseas form, however that's never been too much of an issue as I am prepared to risk those having their first run in Australia, and that method has stood the test of time overall. Definitely keep an eye out for the overseas raiders with an impressive Australian trial however.
At the top of the market is last year's winner Almandin. There is no doubt he has the task ahead with more weight, but his first up run was great and no doubt the stable would find it a little bit special to go back to back. It's not beyond him.
If Bonneval takes the step to the Caulfield Cup, the double could be in her sights. I suspect she has a little bit of Ethereal about her.
Galo Chop is already a group 1 winner in Australia who looks to have come back well this campaign and is certainly worth following.
Alward and Night's Watch are both progressive stayers that will get in with postage stamps on their back if they can gain a start. A lot said Weir was kidding himself by nominating Night's Watch, yet now he's just a $41 shot in the early market. I think D K Weir knows more than most about where to nominate his horses.
Horses to follow
Before wrapping up, three more horses to follow for wins this Spring that have put the writing on the wall in the early weeks are, Voodoo Lad, Tally and So Si Bon. I am not sure of their targets, but all can win a top race.
So there we have it, some great racing already and yet still so much to look forward to. Strap yourselves in racing fans, nothing beats Spring racing!